Your source for rubber art stamps, real vintage ephemera and collage sheets!


2004 - 2006 Copyright Collage Stuff

Miscellaneous Victorian Scrap & Stickers
Victorian Scraps are embossed, die cut papers. They must be adhered with the glue of your choice. They are about 6 x 9" unless otherwise stated.
Click on the photos to enlarge!


Victorian Scrap STICKERS, 1 sheet, about 5 x 8.5", Price $1.29 each

Victorian Cat/Dog Stickers, 3 sheets, about 3 x 7",
Price $0.99/set of 3 sheets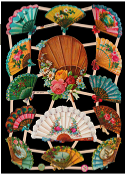 #7392 Floral Fans Victorian Scrap, 6 x 9", Price $1.99