Your source for rubber art stamps, real vintage ephemera and collage sheets!

Collage Stuff Rubber Art Stamps


2004 - 2012 Copyright Collage Stuff
Thank you!

These are the only Collage Stuff rubber stamps left in inventory. Collage Stuff rubber stamps do not include a cling film backing. There is no cushion included.

Unmounted Rubber Stamp Plate 9A, 5.5 x 8.5"
Price $15.00
On Sale for $9.00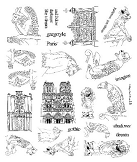 Gothic Paris Unmounted Rubber Stamp Sheet, about 8.5 x 11", Price $24.00
On sale for $15.00

This is a low resolution scan. All imags are crisp and sharp! Click here for a sharper image.