Your source for rubber art stamps, real vintage ephemera and collage sheets!

The Collage Stuff Collage Rubber Stamps are based on my own original art.

Daisy Kisses O-101
3 3/4 x 2 3/4"

Butterfly Kisses O-103
3 3/4 x 2 3/4"

Garden Girl O-100
3 3/4 x 2 3/4"

True Love O-102
3 3/4 x 2 3/4"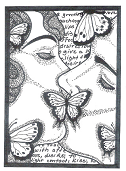 Click above to join the Collage Stuff Yahoo! Group; a place for ATC swaps, a low volume mailing list announcing new items and members only specials!


2004 - 2010 Copyright Collage Stuff
Thank you!


These stamps will be included in the unmounted rubber stamp grab bags.